Horizon Hobby wins me as a customer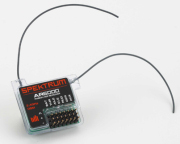 A couple weeks ago I sent my Spektrum AR6000 receiver to Horizon Hobby's service department because it was losing bind on the ground (especially in cold weather). Oddly, I could never reproduce the problem on the bench. It only happened at the flying field, and only on hand launches. Very weird. I was nervous that I would destroy my plane if it ever lost bind in the air, so I finally decided to send it in for service. I didn't have much hope that Horizon would be able to see the problem since I could never make it happen on the bench, but they graciously took my word for it and replaced it free of charge. All I paid was the $5 to ship the receiver to them, and they replaced it and shipped the new one back to me free of charge. This was after they failed to reproduce the problem after 15 attempts. Way to go Horizon! I'm now a loyal customer for life.
P.S. Larry Weddle did the service, and decided to send me the new AR6000. Good work Larry!