2nd Flight of the Super Cub
After repairing my Super Cub from my first crashes, I ventured onto the flying field again today, this time with the help of an experienced veteran flier, Michael Torrie. Thanks to Michael's help, the experience was almost totally positive. I learned to land! I also got some much needed practice at controlling my turns, rolls, pitch, and throttle. I had a great time. Once a gust of wind threatened to crash my Super Cub into a concrete parking lot, but thanks to some tips from Mr. Torrie, I was able to recover and fly her to safety. Read on for pictures and details.
The number one best tip I got: When the plane is flying toward you, and you want to level the wings, turn the stick toward the low wing, or "stick to the low wing" as Michael would say. The other tip IÂ learned is that, unlike a car, to straighten the plane after a turn, you have to move the stick in the opposite direction for a moment. In a car, you only bring the steering wheel back to center, and you'll be going straight again. In a plane, you have to bring the "wheel" back to center, and past it to return to straight flying.
At the end of the day, my cub only sustained two minor incidents of damage:
A single broken prop (this time I brought 2 extras).
The motor cover lost a chunk of plastic that was knocked loose on my maiden flight (photo below).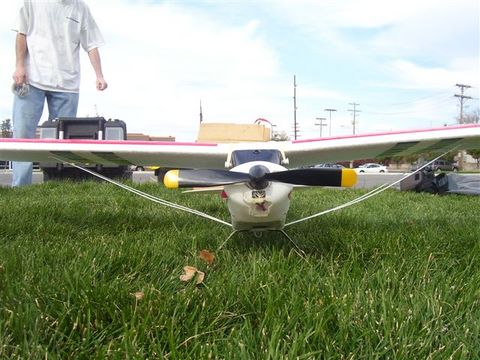 Notice the square hole just below the propeller. That's not it. Below that, there's an odd-shaped hole. That's the only permanent damage sustained today. Basically, I just enlarged a hole that was already there. That goes down as success in my log.
I did want to point out something funny. I thought my plane was starting to look beat up from my many crashes, but next to Torrie's, mine looks like it's never been flown. Here's Torrie's plane: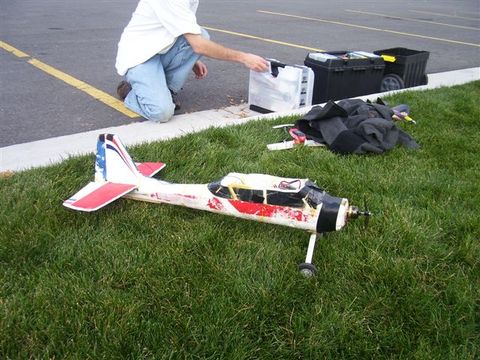 Believe it or not — this plane flies wonderfully. It's a 4-channel with LiPo battery and brushless motor. It really sings. Unbelievable!
And now some repair notes: 5-minute epoxy (cost: $5.00) works much much better than foam-compatible CA (cost: $10.00). It doesn't eat foam, works better than CA, and it dries in 5 minutes. I used some of Michael's epoxy to secure my battery box after the CA wasn't strong enough to hold it in. The brand is DevCon and it is available from Wal-Mart.
Michael also had a great idea for building "prop savers" as he calls them. He uses rubber bands and a special contraption to secure the prop to the shaft. That way, the prop can bend on impact, rather than snap. He does the same thing with his motor and gear box. I think the theory is right on: Where possible, use elastic fasteners rather than static ones to minimize the force delivered to the plane's components on impact.
All told, it was a good day today. I had some close calls with the wind, but was able to pull out of catastrophe by applying the "stick to the low wing" principle. Saved my bacon more than once!