More User Interface Critiques
Today in Windows XP, I double clicked on a scanner icon under "My Computer" after installing a new scanner. Here's the dialog that popped up: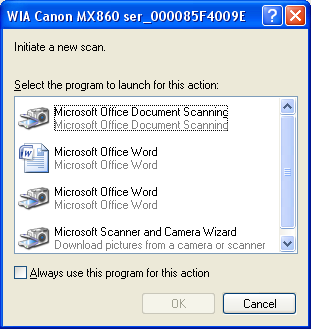 A few gripes worth considering:
The phrase "Microsoft Word" is mentioned 4 times.
3 out of 4 of my options have repeated text (once in black, and again in gray, in case you prefer gray text over black text)
The entire serial number of the scanner is shown in the dialog. I'm sure this was done to guarantee uniqueness, but what a pain for the user, eh?
What does the phrase "initiate a new scan" mean? Sounds like programmer speak.
What is the difference between the "Microsoft Word" with a document icon and the "Microsoft Word" with a camera icon?