Graph Theory Problem
I came across a graph theory problem at work this week, and decided to blog about it to help me sort it out. At first I didn't think of it as a graph problem, but that's how these problems often go, shrouded in disguise and all. But I digress.
The problem is this. Considering the following directed graph, which nodes are the most senior ancestors (speaking in tree terms, of course)?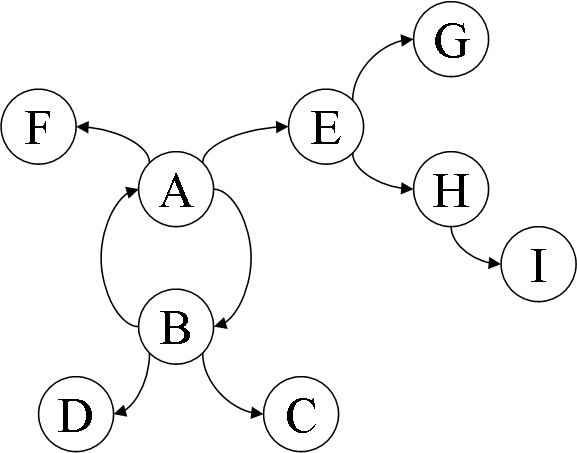 The answer is that nodes A and B are the most senior, meaning they have the most number of descendants in their sub-trees. This becomes obvious if we draw the same graph this way: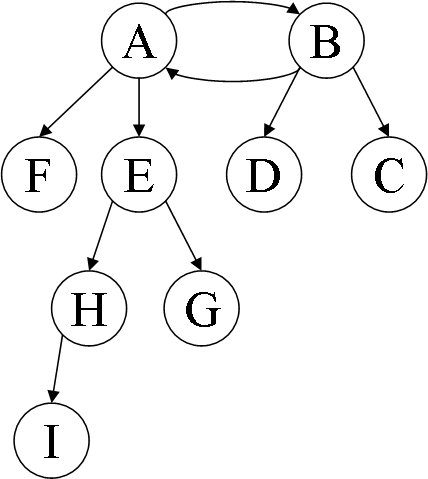 I'm trying to discover an algorithm to identify the senior most nodes given any directed graph. The graph is given as an edge list, like this:
A -> B
A -> F
A -> E
E -> H
E -> G
B -> A

(notice the cycle here back to A)

B -> D
B -> C
H -> I
So there's the problem. I'm looking for an algorithm that will find the top-most nodes given any directed graph. In the case where there is only a single top-most node, it's easy, but that's just one case, and I want a general solution. Also, the graph need not be fully reachable from any node. It could be two or more non-connected graphs.
If you have an idea for an elegant solution, please post it in the comments below. I'll post my own solution next week.
Happy graphing!
Edit:
After thinking about the problem a bit more, I thought I'd add another example with some corner cases that my solution will need to consider. If you look below, you'll see a graph with a more complicated cycle and a non-contiguous section. The nodes I expect the algorithm to discover are shown in green: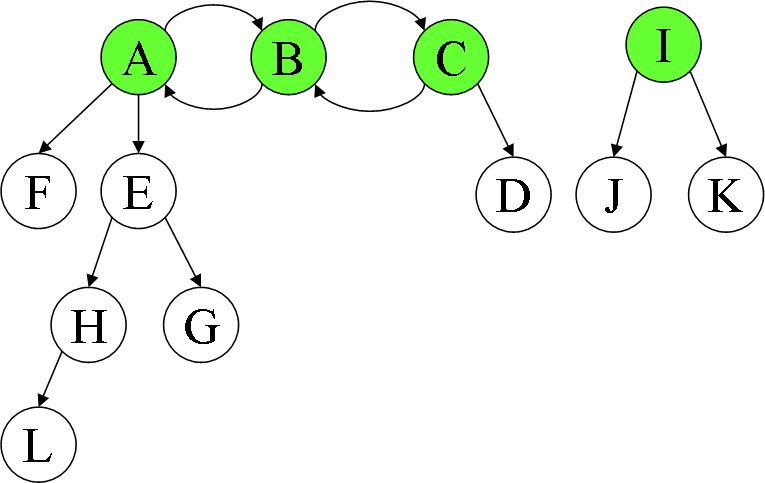 Here are the edge pairs:
A -> B
A -> E
A -> F
E -> H
E -> G
B -> A
B -> C
C -> B
C -> D
I -> J
I -> K
H -> L